Join TealBook to become part of the world's most comprehensive supplier network.
The world's largest companies are using TealBook for supplier discovery. Create a free TealBook account and claim your universal supplier profile to increase your ability to win new business.
Enterprise Suppliers
Begin or expand your diversity program, and easily shareyour diverse spend with current and prospective customers.
Small Business Suppliers
Self-certify as a small business in TealBook and access our vibrant community of buyers searching for new supplier relationships.
Midsize Suppliers
Assert yourself as a viable competitor. Be more visible in searches, win more business, and foster top line
Diverse Suppliers
Self-certify as a diverse business, with TealBook's accredited self-certification program, and display these certificates on your supplier profile.
Why Join TealBook?
TealBook's AI and ML has already created a profile for your businesses, and it is up to 70% complete. By creating a TealBook account and claiming your profile, you can appear in up to 55% more buyer searches.

TealBook also gives suppliers the opportunity to self-certify as small, diverse, or sustainable businesses. TealBook's supplier self-certification provides a free alternative to daunting and expensive certification programs. Suppliers can create and maintain their certification in less than 15 minutes a year, while still meeting the requirements for certification audits. Self-certifying in TealBook can help your customers identify if their spend with you is qualified diverse spend. It also makes you more competitive and gives you an opportunity to win business from organizations looking to do business with small and diverse businesses.

In addition to self-certification, TealBook offers several avenues for suppliers to increase their attractiveness to buyers, including support for participating in a Tier 2 program, and our sustainability survey which allows suppliers to share information about their sustainability practices with buyers.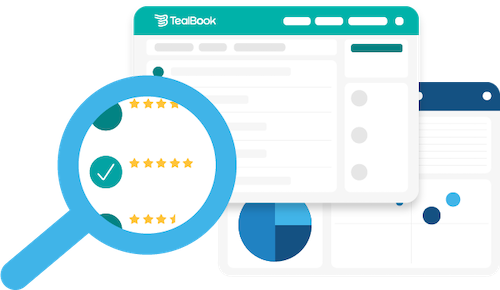 About TealBook
TealBook is the leading supplier data foundation that autonomously maintains supplier master data, powers e-procurement technology, drives supplier compliance, and enables supplier performance.
Using AI and ML, TealBook gathers, predicts, and refines supplier data to build the world's most comprehensive supplier intelligence. When there are supply chain disruptions, companies leverage TealBook to identify emergency sourcing options and ensure supply continuity; when it's business as usual, they use TealBook's technology to unleash full procurement excellence.

TealBook has been adopted by Fortune 100 companies and is the winner of many prestigious awards, including being named one of the Spend Matters 50 Vendors to Know in 2021, and part of the ProcureTech Top 100. For more information, visit www.tealbook.com.